Gallery of our motorcycle decals
In following section you can find pictures of racing decals that we did for us, or our customers. Your bike can be also shown here!
Tono #56
Bright orange Yamaha theme has lighten up the blue R6 and added her a real race-look.
Dušo #55 - Aquaprofi racing team
Requirement was to revitalize the Honda CBR 600 RR with red color, place the company logo "Aqua profi" on both sides, and fit the starting numbers according to the rules of Superstock 600 class of Alpe Adria Championship. To the red color we chose black according to the rider's leathersuit, the back part was used for the sponsor logos, and the front side of the tank was dedicated to the family of the rider.
Helmet - DART racing team
We also customized the black Shark helmet for the DART racing team. Neon orange stripes with green stripe, and a floral pattern on the top of the helmet is a great fit for the Yamaha R6 team bike.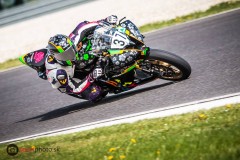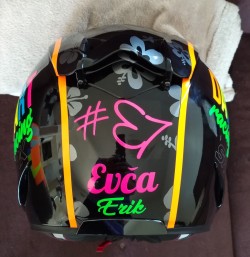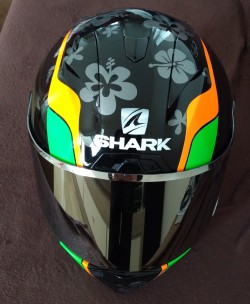 DART racing team - Evca #37, Erik #27 and Roman #24
Three different bikes with three different riders, but all have a common unifying design that clearly shows, that they belong to one team. Eva's Yamaha R6 is decorated with a floral pattern, the Erik's ZX-10R carries pattern of a track enthusiast, and Roman's GSX-R 750 says that it belongs into the hands of a passionate DJ Jašter.